Contact Us
ADD : JINGYI ROAD OF NEW DISTRICT, WANGZHUANG INDUSTRIAL PARK, WUXI, CHINA.
TEL : +86 13255213020
EMAIL :
info@dawsonbearing.com
WHATSAPP : +86 13255213020
SKYPE :
dawsonbearing
Radial Spherical Plain Bearings GE20 ES
Item No.:
GE20 ES
Payment :
T/T, PAYPAL, WESTERN UNION
Product Orgin :
China
Product Port :
Shanghai, Shenzhen
Product Weight :
0.066kg
Contact Now
Description
Spherical Plain Bearings GE20 ES
Dimension: 20X35X16X12
Dynamic Load: 21,2 KN
Static Load: 106 KN
Plain bearings
Many applications require spherical bearings that are suitable for oscillating movements and that can accommodate misalignment. Rolling bearings only partly fulfil these requirements as they are generally designed for continuous rotation and can only accommodate limited misalignment. Therefore, SKF manufactures spherical plain bearings, rod ends and bushings to provide an economical solution to these challenges.
Radial spherical plain bearings with the sliding contact surface combination of steel-on-steel are made of high grade carbon chromium steel, hardened, ground and phosphated. The sliding contact surfaces are treated with a running-in lubricant. The outer ring is intentionally fractured at a given point so that it can be sprung apart to enable the inner ring to be inserted. The bearings are therefore non-separable.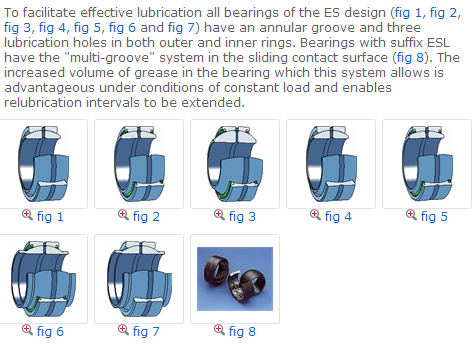 The following is more part number of Spherical Plain Bearings:
| | | | | | | | | | |
| --- | --- | --- | --- | --- | --- | --- | --- | --- | --- |
| GEG 10 ES | 10 | 22 | 12 | 7 | 13 | 10 | 54 | 18 | 0.021 |
| GEG 12 ES | 12 | 26 | 15 | 9 | 16 | 17 | 85 | 18 | 0.033 |
| GEG 15 ES | 15 | 30 | 16 | 10 | 19 | 21 | 106 | 16 | 0.1049 |
| GEG 17 ES | 17 | 35 | 20 | 12 | 21 | 30 | 146 | 19 | 0.083 |
| GEG 20 ES | 20 | 42 | 25 | 16 | 24 | 48 | 240 | 17 | 0.153 |
| GEG 25 ES | 25 | 47 | 28 | 18 | 29 | 62 | 310 | 17 | 0.203 |
| GEG 30 ES | 30 | 55 | 32 | 20 | 34 | 80 | 400 | 17 | 0.304 |
| GEG 35 ES | 35 | 62 | 35 | 22 | 39 | 100 | 500 | 16 | 0.408 |
| GEG 40 ES | 40 | 68 | 40 | 25 | 44 | 127 | 640 | 17 | 0.542 |
| GEG 45 ES | 45 | 75 | 43 | 28 | 50 | 156 | 780 | 15 | 0.713 |
| GEG 50 ES | 50 | 90 | 56 | 36 | 57 | 245 | 1220 | 17 | 1.44 |
Drawings of Spherical Plain Bearings GE20 ES:
More pictures of Spherical Plain Bearings: